Yelena

Rank

N/A

Gender

Female

Affiliation

N.O.V.A.

Species

Artificial Intellegence

Game(s)

N.O.V.A, N.O.V.A 2, N.O.V.A. 3

Status

Deceased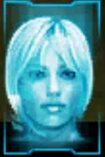 Yelena
is a Computer
AI
that aids
Kal Wardin
throuought his missions. In
N.O.V.A.
she tells Wardin that she is his AI assistant on his mission.
AI and Friend
Edit
Throughout the N.O.V.A. games, Yelena is always there. Although in N.O.V.A, she continues to address him by rank, she quickly becomes friends with Wardin in N.O.V.A. 2. For the first two games, Kal only ever communicates with her indirectly through his helmet, however in N.O.V.A. 3 Kal and Yelena finally meet, as, by this point, though only an AI, she was given a body as "a gift from Prometheus".
In the final chapter of N.O.V.A. 3, Yelena pushes Kal out of the way of the Kar'rak, taking the blow herself. Paralysed, she is then struck with a killing blow. It's currently unknown if she can be recovered again.
The Judgers decided to resurrect her as Wardin's assistant at the end of N.O.V.A. after she was deleted by the Ceresian government
She is very similar in both purpose and image to Cortana of the Halo franchise.
Community content is available under
CC-BY-SA
unless otherwise noted.