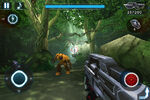 New Ceres
is a planet with the recreational colony where
Kal Wardin
spent his retirement before the events of
N.O.V.A.
, when he resumed duty. After destroying
Colonial Pride
, Kal returns there on an escape shuttle, landing in the outer jungle, where other Marines hold out against
Xeno
forces and directed him to the Epsilon bunker - old enough that it was "not used since rebellion times". There, he clears out the
Xeno
forces inside and averts a nuclear launch, then escapes the base on a
4x4
, then takes a shuttle to a mining facility elsewhere on the planet overrun by
corrupted marines
. Once the problem is resolved, he leaves the planet through a portal he is told to go through by
Prometheus
, leading him to a monolithic city on a Xeno asteroid.