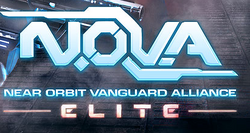 N.O.V.A. Near Orbit Vanguard Alliance Elite is one of the games in the N.O.V.A. (series). It's a competitive free-to-play sci-fi FPS multiplayer browser-based game developed by Gameloft utilizing the Unity engine. It was originally a Facebook exclusive game, however this is no longer the case. The game is now no longer playable on Facebook, this version having been closed on August 31st 2011, relaunched, then closed again on September 30th 2011, which is surprising due to apparent popularity. Despite this, it's a little known fact that Gameloft used to host the fully functional game, complete with a regular online community, at the following web address: http://social-beta.gameloft.com/gllive/nova/index.php/ after the closure of the Facebook version.
The game reportedly has lag issues even at the most efficient settings, which appears to be due to poor optimisation.
Something that makes the game stand out amongst other N.O.V.A. titles, aside from being fully multiplayer and browser-based, is the amount of customization options given to the user, with different armour available, emblems and colour customization with primary and secondary colours, much like Halo 3.
Multiplayer Maps
Edit
Command Center
Space Ship
Jungle
Snow Base
Official Sites
Edit
The armor sets are based on those seen in the N.O.V.A. 2 campaign whilst the weapons are based on those of the original N.O.V.A. and its sequel.